Smarts aluminium doors offer the very latest in sliding door technology, renowned for their high-quality products in a range of designs. Among their collection is the Smarts Visoglide Plus door which is a high performing system with plenty of style. As a leading UK manufacturer, this is a sliding door design our customers can rely on.
A Sliding Door with Superior Thermal Performance
Smarts Visoglide Plus is a sliding door which delivers an outstanding thermal performance to help properties remain energy efficient. This includes an extended thermal break which helps to drastically reduce the amount of heat lost, offering exceptional insulation for both homes and businesses. Not only that, but the doors are highly functional across the board, from their weather resistant properties to PAS 24 certified security features. Choose between inline sliding panels (including corner panels) or lift and slide options when choosing how you want to open the doors. You can even select up to 6 panels in your preferred configuration.
Aluminium is the perfect material when creating sliding doors with a difference. Thanks to their strong yet lightweight nature, the aluminium frames achieve the seemingly impossible task of having a slimline appearance while holding larger panes of glass than other materials. The doors are available up to 2.5 metres in sash height, letting in maximum natural light. It's easy to create warm and welcoming spaces which have virtually uninterrupted views of the outdoors.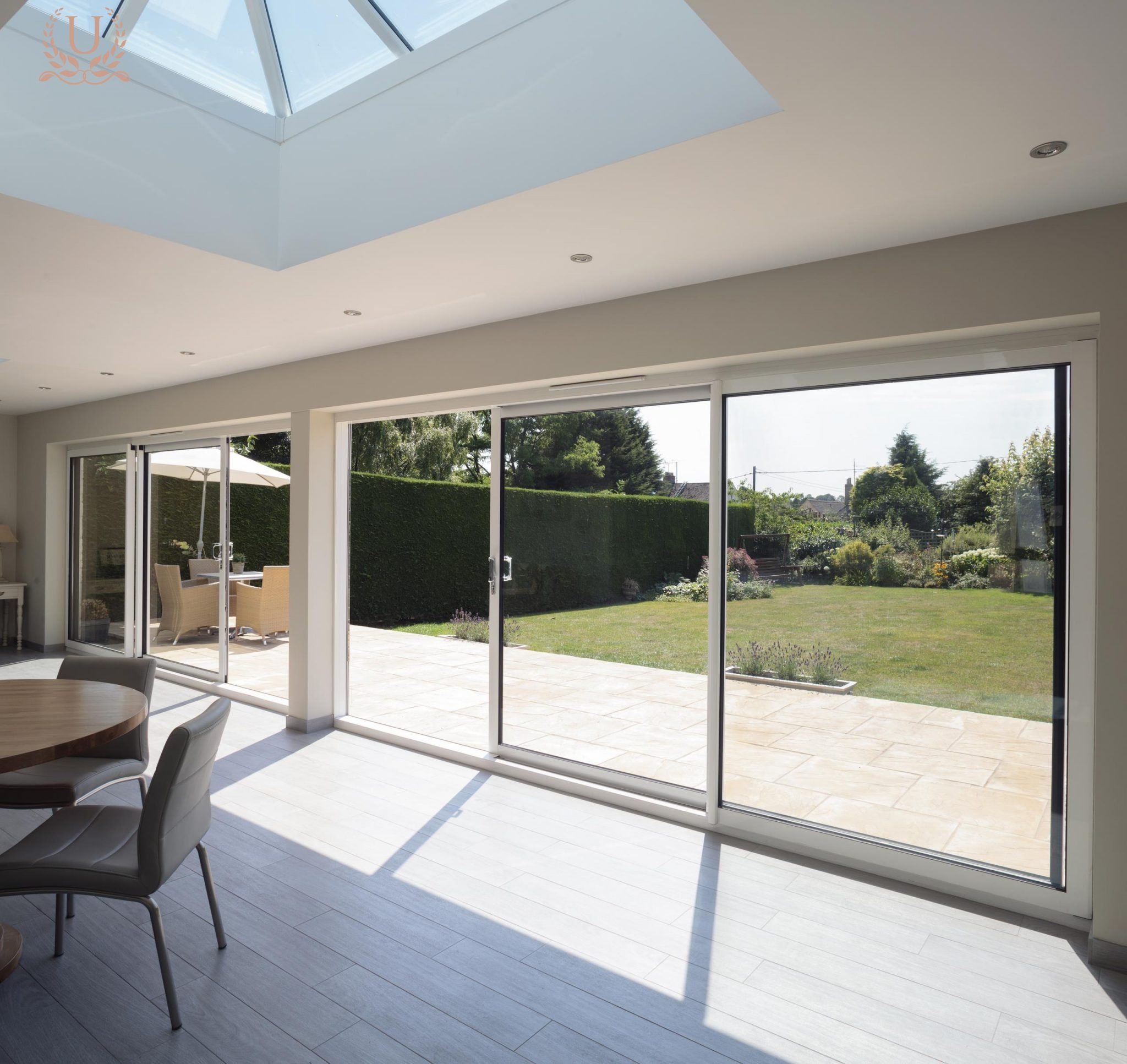 Residential & Commercial Sliding Doors
Thanks to its capability to hold large panes of glass, the Smarts Visoglide Plus system is ideal for both residential and commercial applications. These elegant looking doors are suitable for commercial entrances where large openings are required while also enhancing residential spaces. The sliding doors come with a smooth manual opening mechanism as standard, but you can opt for auto-slide opening as an additional feature.
It's easy to achieve the look and feel you want for the design with a range of customisation options. This includes an unrivalled collection of RAL colours which can be selected in one shade or dual colours for alternative looks for the inner and outer frames. Smart Systems are renowned for their range of both standard and non-standard finishes which include their unique Sensations colours which have a tactile finish.

When selecting the Smarts Visoglide Plus range, you can expect features such as: