"At Unique Windows London, we understand that you're looking for that perfect blend of style and practicality. That's why we know you won't be disappointed when you choose from our selection of bifold doors and windows."

Nick Harlow

Product Specialist
If you're unsure of what a Origin bifold door actually is, the clue's in the name! Two or more panes of glass are attached by hinges, which can be easily folded into one another and away. As a Premium Partner of Origin bifolds, we're able to offer you the highest quality products from one of the UK's leading manufacturers of aluminium bifold doors.
Weighs 67% less then steel
Premium Stainless Steel handle
3 Star Diamond cylinder and PAS 24 as standard
Weighs 67% less then steel
Yale handle as standard. Upgradeable to Premium Stainless Steel
The Perfect Temperature, All Year Round
Unique Windows London designs with the changing seasons in mind. We ensure that all our products will keep the warmth in during winter, whilst offering you respite from the heat when the mercury rises.
What's more, a key factor in the heat efficiency of any window or door is its fitting. When performed incorrectly, all the advantages of quality manufacture are lost.
You can be sure of a professional job, which will keep your home at a pleasant temperature for many summers and winters to come.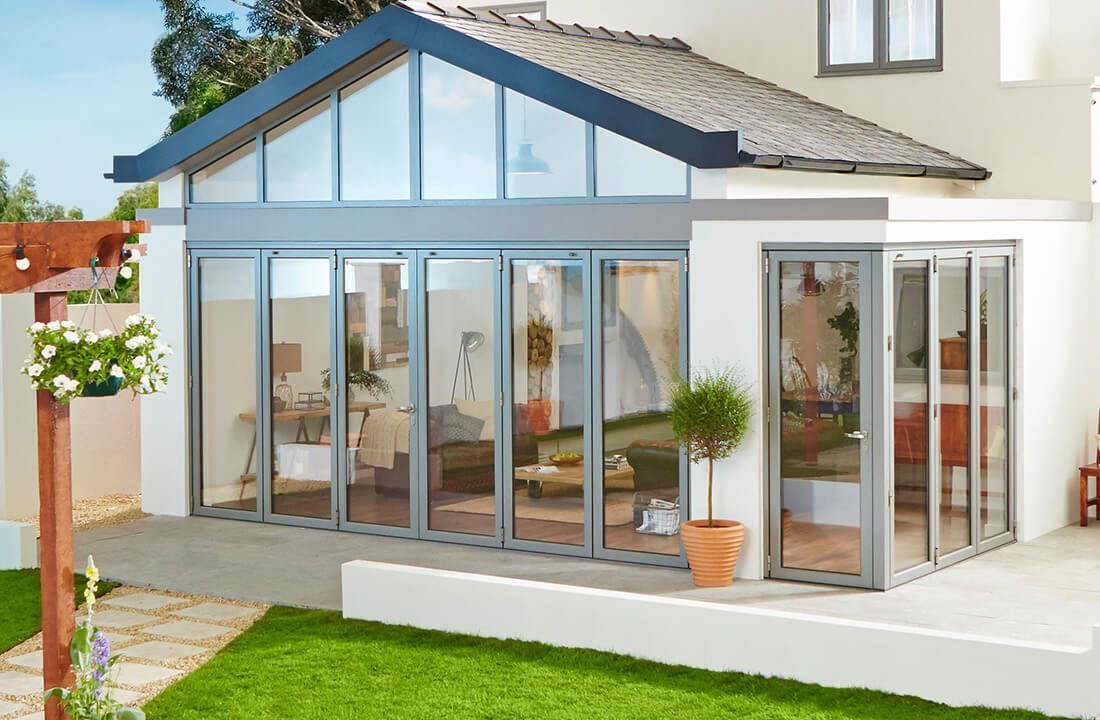 Economically Sound, Environmentally Friendly
With our designs, you won't need to crank up the thermostat in winter, so you can rein in those energy bills too.
Unique Windows uses the most modern temperature regulating technology, and adheres to all current regulations and energy efficiency guidelines. This means you can trust us with the manufacture and installation of your bifold windows, and you can also rest assured that you're doing your bit for the planet.
Brighten Your Home with Bifold Doors
Inherent to the design of bifold doors and windows is their generous glass surface area. Your rooms will look bright, airy, and bursting with natural light when fitted with Unique Windows' bifold range.
Our exquisite designs are slim and elegant, and are available in a wide range to suit the look of your home. Less opaque materials mean more transparency and a brighter, more inviting room for you and your family.
Sleep Soundly with Unique Bifold Windows
At Unique Windows London, we're proud to offer only the safest and most secure designs, to protect your home.
Our wide range of bifold windows and doors has been tested thoroughly, to ensure they meet all legal safety and security standards in place today.
New for 2019, this slimline door has been re-engineered from the industry-renowned OB-72. Its sightline of just 49mm means less profile and more glass is achieved, giving you a panoramic view of your surroundings.
Manufactured from premium grade aluminium, it off­ers impressive panel sizes without compromising on security, thermal or operational performance – it's the ultimate combination.
A cleverly designed, beautifully made and exquisitely finished sliding folding door system that features a unique free-glide running system.
Offering sightlines of 72mm and chamfered beading, it provides a more traditional style and given its innate strength, it means that it can accommodate door sets of up to twelve doors in a single configuration, as well as corner and bay set ups.